---
We recognize that in today's world, many large oil companies are integrated, with upstream, midstream, and downstream units. We partner with you to determine your greatest area of needs and are able to provide engineering, construction, environmental services, operations, maintenance, asset management, program management, construction management, and facility decommissioning that offer you creative and cost-effective solutions.
---
We work to support your upstream exploration, drilling, and extraction from development permitting through reservoir and production fluids analysis, sample management, and well-testing.
Midstream activities include the processing, storing, transporting, and marketing of oil, natural gas, and natural gas liquids. We work alongside companies who operate tanker ships, pipelines, and storage facilities to provide operational and environmental solutions.
Looking downstream, we support your distribution and retail programs; including, capital improvements, new construction, facility audits, leak detection, calibration, and maintenance. Our teams help you mitigate risk, ensuring that your products are distributed safely, on-time, and compliant with national and international standards.
One of our areas of focus is monitoring and controlling outages and the turnaround process, which allows us to implement corrective action to strengthen work efficiency and quality. In addition, our certified maintenance reliability professionals use practical approaches for every initiative to reduce unit production cost, helping increase your plant production capacity.
APTIM. Expect the Extraordinary.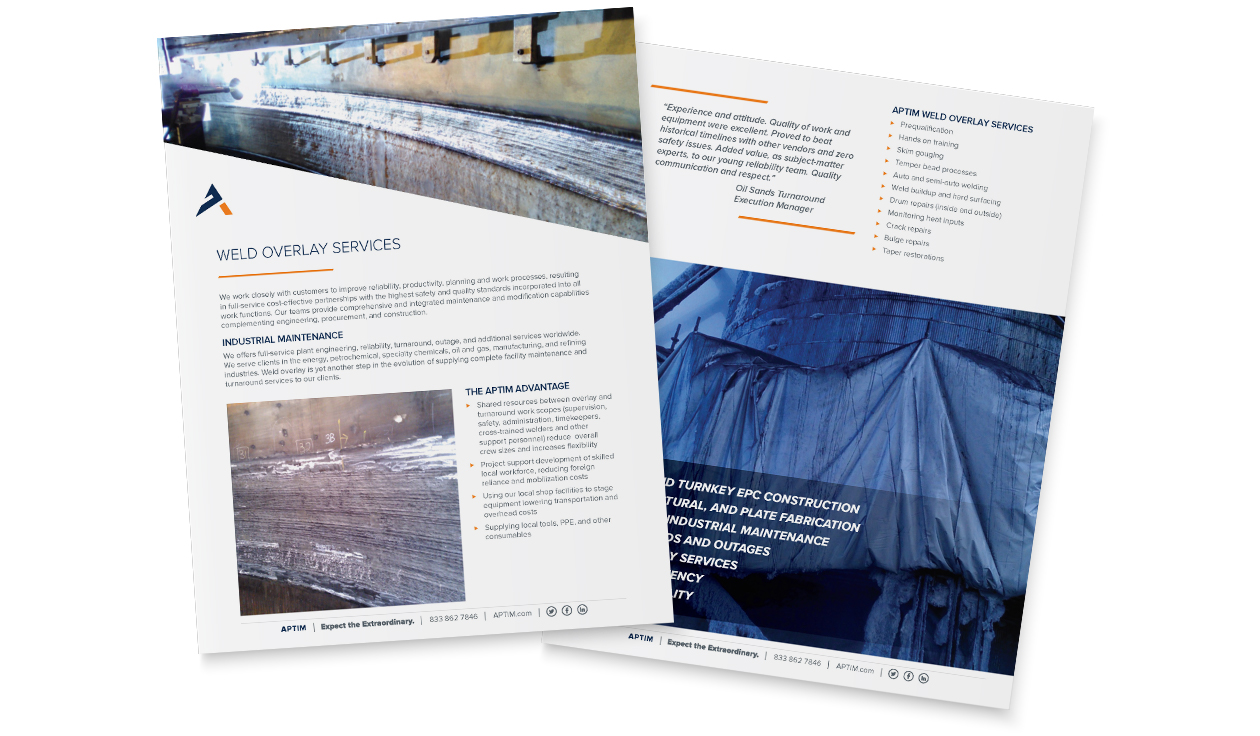 Download Our Flysheet
Learn more about our Weld Overlay Services.
---
If you would like to learn more or have any questions about the services we provide to the Energy market, please contact us.
Whether you have a question about a specific product or service, want to apply for a career, are interested in an investment opportunity or just want information in general, we're here for you.
APTIM. Expect the Extraordinary.