BACKGROUND
Big box stores are known for their sprawling retail spaces and stretches of parking lots that accommodate large waves
of shoppers. These spaces are typically constructed with impervious materials such as asphalt or concrete, which can
cost chains upward of a hundred thousand dollars in stormwater fees per year. For example, in one Philadelphia-area
Target store alone, our analysis showed that total water and storm drain cost the chain nearly $120,000/yr, primarily due
to a parking lot that occupied over 80% of the property. In addition to operational costs, stormwater runoff from large
parking lots can pollute waterways and cause environmental degradation.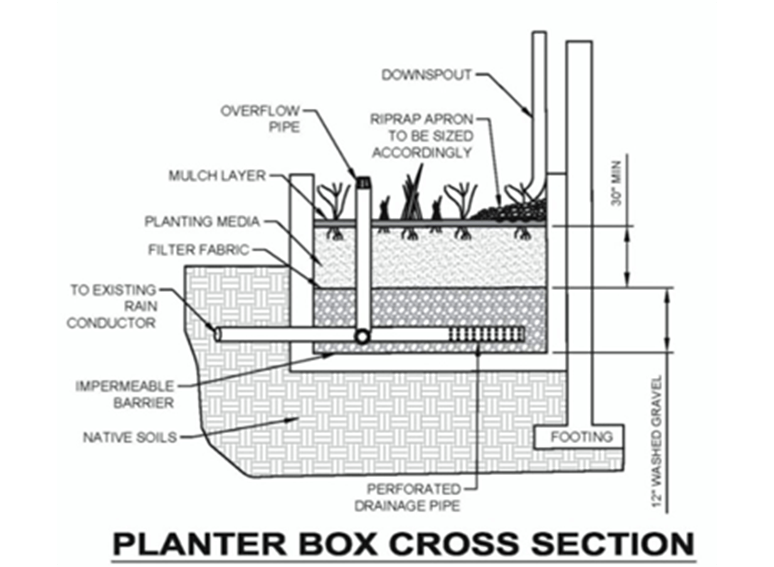 Our Approach
Target hired APTIM to develop a Stormwater Asset Lifecycle Model and Prospective Project List for Target store locations nationwide.
Recommended low impact design (LID) and Green Infrastructure strategies included:
Green roof
Replacing black top with porous asphalt pavement
Bioswale
Native landscaping to replace turf
Planting deciduous storm water trees
Landscaped buffer to promote bio retention of storm water
Outcome
In addition to recommending LID strategies, we identified stormwater credits, grants, rebates and cost-shares to reduce
the capital costs of implementing the recommended strategies. Our team selected and prioritized the sites based on
available incentives and a return on investment. We provided conceptual design modifications for identified Target
facilities that would benefit most from LID features.
Target reduced operations and maintenance costs through LID and landscaping/irrigation modifications, drove process
innovation, and extended the life of stormwater assets. We also worked closely with Target and the Philadelphia Water Department
to complete grant applications for the permitting of the proposed design modifications.