---
APTIM provides extensive decommissioning services to federal, utility, and energy markets allowing us to lead the process of strategically dismantling a facility that is no longer needed. This process can be very complex, which is why we offer solutions for safety, planning, and execution.
---
Whether you have a nuclear facility that needs a plan for removing radioactive material from the site, or closing down a fossil fuel or industrial plant, we incorporate safety protocols and procedures for you and your entire team.
We begin with an engineering assessment for partial or full closure of your facility, which means that we help you determine the most cost effective, safe, and efficient way to decommission, decontaminate, and demolish your building when necessary. Our area of focus is on providing these services for power plants, ships, and industrial facilities worldwide.
Initial risk-based cost estimates for base rate justification, detailed cost estimates, and environmental surveys all help you make an informed decision regarding the demolition, remediation, and property transfer of your plant or facility.
Once you have made the decisions regarding your asset disposition, APTIM supports execution as Owner's Engineer, construction manager, or demolition contractor.
APTIM. Expect the Extraordinary.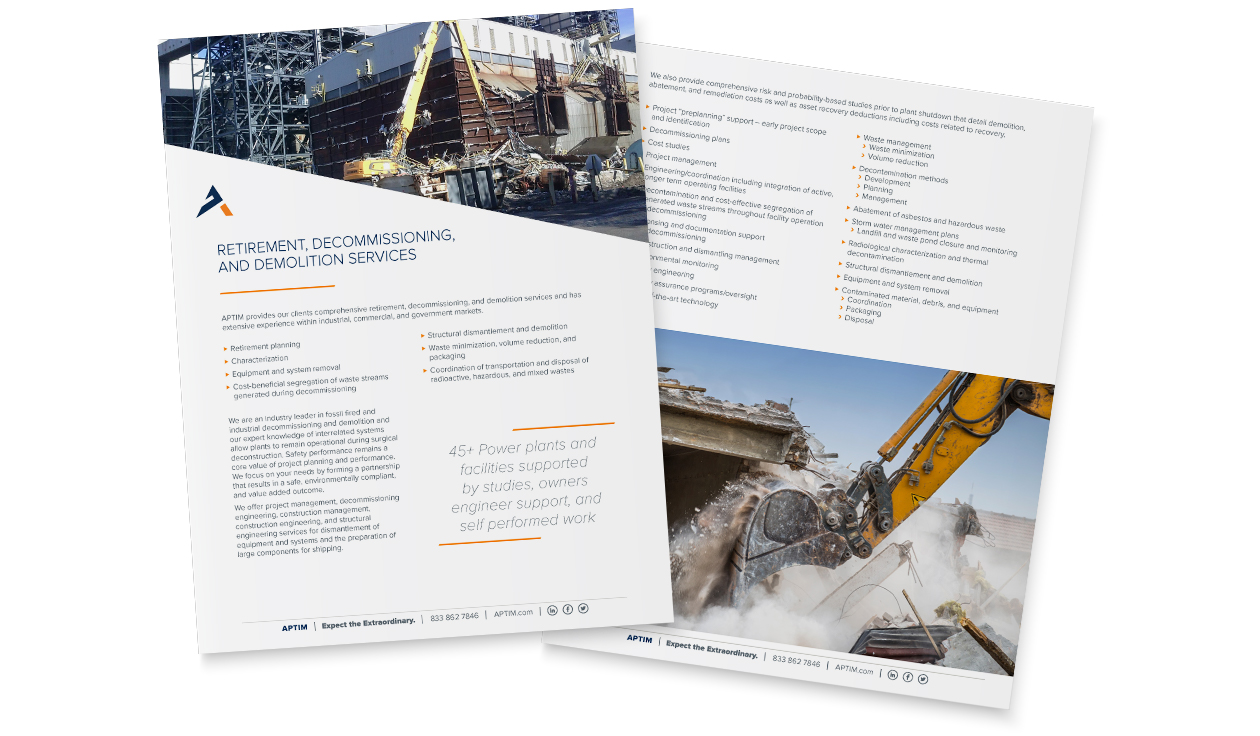 Download Our Flysheet
Click here to learn more about our extensive experience in retirement, decommissioning, and demolition services.
---
Facility Decommissioning Services
If you would like to learn more or have any questions about our Facility Decommissioning Services, please contact us.
Whether you have a question about a specific product or service, want to apply for a career, are interested in an investment opportunity or just want information in general, we're here for you.
APTIM. Expect the Extraordinary.