Disaster Recovery Strategy and Consulting Services, California Severe Winter Storm and Flooding Events, Merced County, California
BACKGROUND
In response to flooded infrastructure (primarily roads and bridges), APTIM provides Merced County government entities with technical assistance and strategic recovery and policy guidance for back-to-back disaster declarations. The county sustained damaged infrastructure of $9+ Million during the two flooding events.
OUR APPROACH
We coordinate with multiple city entities along with California's Department of Transportation for FHWA-ER grants, the recipient California Governor's Office of Emergency Services (CalOES), and with FEMA to manage $1+ Million in grant recovery funding. We track all costs, deliverables, budgeting, insurance recoveries, project management, timekeeping, Direct Administrative Cost (DAC) reimbursement, formulation, and damage assessments and provide expertise in the following areas:
Cost estimating and analysis
Insurance recovery
Appeals and arbitration
Direct administrative cost recovery
Policy advice
Procurement expertise
Debris management and monitoring
OUTCOMES
COST CONTROL – To date, all tasks performed for the county are under the initial budget projections. In addition, we are beginning to work with CalOES and FEMA to reimburse Merced County for project formulation and grants management reimbursable DAC.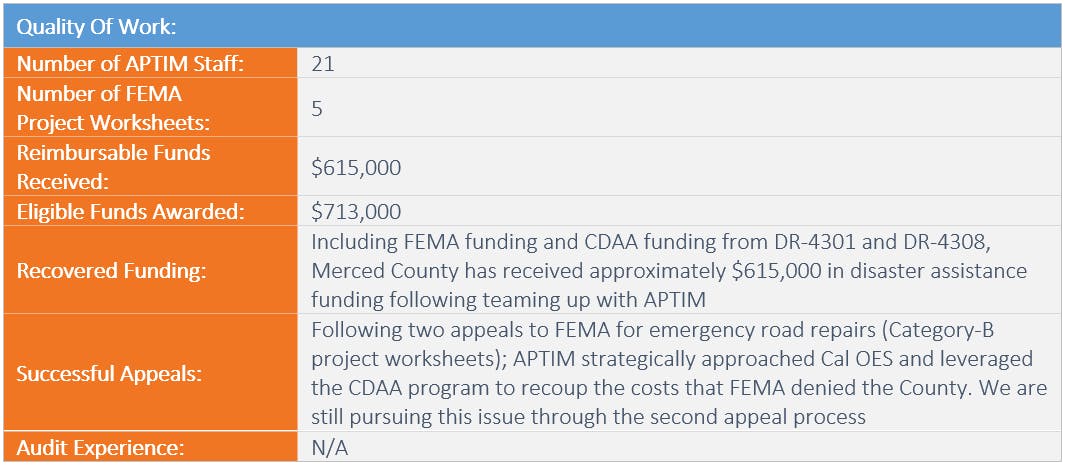 DEMONSTRATED KNOWLEDGE AND COMPLIANCE WITH PERFORMANCE SCHEDULE – The services we provide are continually monitored through our custom Quick Base© application, tracking progress and performance to the ultimate closeout of all open projects and disasters. To date, all services provided are on schedule, with no delays.