---
APTIM continues to build our reputation within the construction industry on our dedication to safety, quality, and the schedule performance we bring to our projects around the world. We offer both stand-alone construction and construction management services using consistent tools, systems, and standards to safely deliver superior results even in the most challenging environments.
---
Collaborating with you in the federal, state, local, industrial, commercial, energy, and utility markets, we deliver engineering and construction services for large-scale projects.
Combining our advanced technologies and reliable construction techniques, we offer heavy industrial construction, fabrication, modularization, civil and vertical construction, fuel system construction, and landfill gas construction.
We believe that the only way to a successful partnership is through a fully collaborative and highly engaged team, which is why we take time before each project to establish open communication, transparency, and a willingness to adapt to drive towards our shared project objectives.
In addition, our expansive fleet of in-house heavy equipment gives us the opportunity to self-perform complex and large-scale environmental projects – allowing us to accelerate your schedule and reduce your costs.
Our comprehensive portfolio of projects across the industries we serve, and our concept-to-completion range of capabilities position us to meet your needs year after year.
APTIM. Expect the Extraordinary.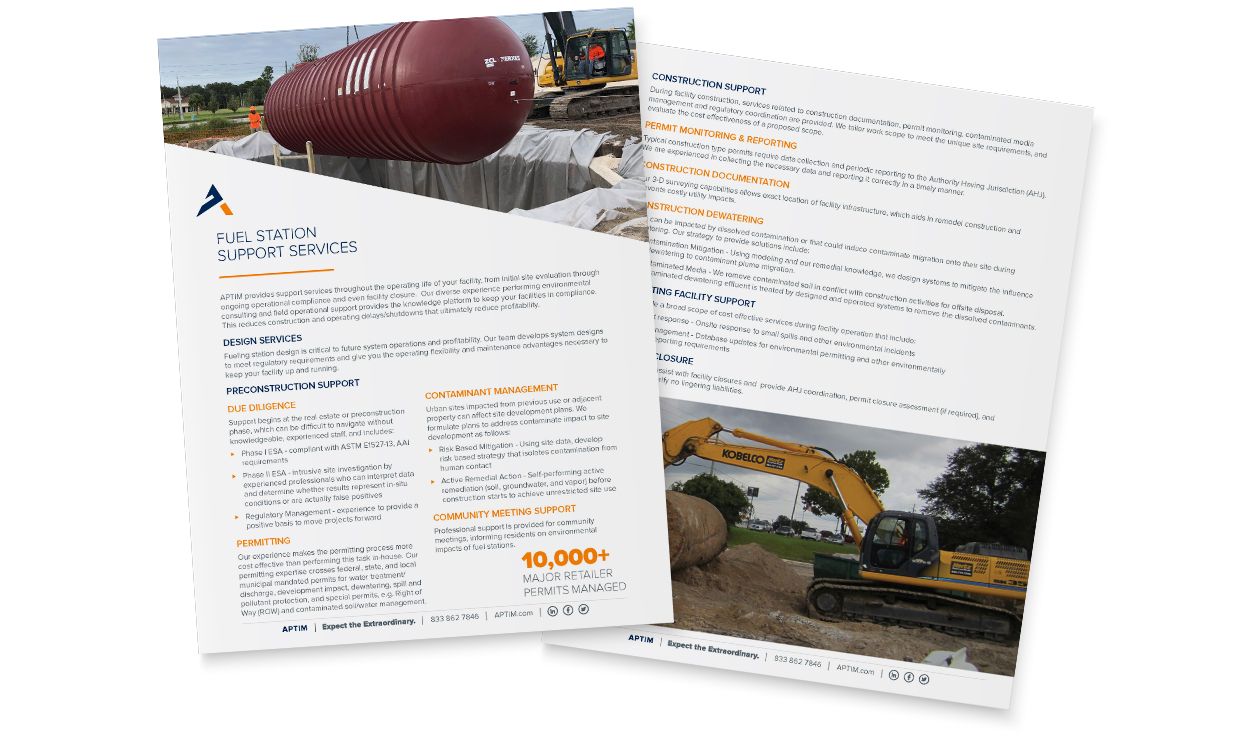 Download Our Flysheet
Click here to learn more about our fuel station support services and our full suite of construction services.
---
If you would like to learn more or have any questions about our Construction Services, please contact us.
Whether you have a question about a specific product or service, want to apply for a career, are interested in an investment opportunity or just want information in general, we're here for you.
APTIM. Expect the Extraordinary.