---
We recognize you need a partner with the experience and commitment to solve your challenges with creative, cost-effective solutions. Our full suite of services from across APTIM is available to solve the most complex problems. We are committed to your business – our success is predicated upon yours.
---
APTIM provides extraordinary turnaround, capital project, and maintenance solutions to clients in Canada, and has been doing so for decades. Whether an outage lasts a few hours or several months, we maintain a turnaround group specifically designed to meet the needs of each of our clients. We can rapidly mobilize a team of supervisors and craftsmen to operate under tight schedules and difficult conditions where safety, quality, and schedule cannot be compromised.
With the management, planning, and scheduling responsibilities all under one umbrella, our clients enjoy the benefits of eliminating issues of coordination between multiple contractors and reducing the potential for scheduling conflicts and errors.
Our maintenance team focuses on supporting our clients in everything from plant maintenance operations to plant engineering, construction, planning and scheduling, tank repairs, specialty services, pipe fabrication, turnaround/outage services, and project and construction management.
APTIM. Expect the Extraordinary.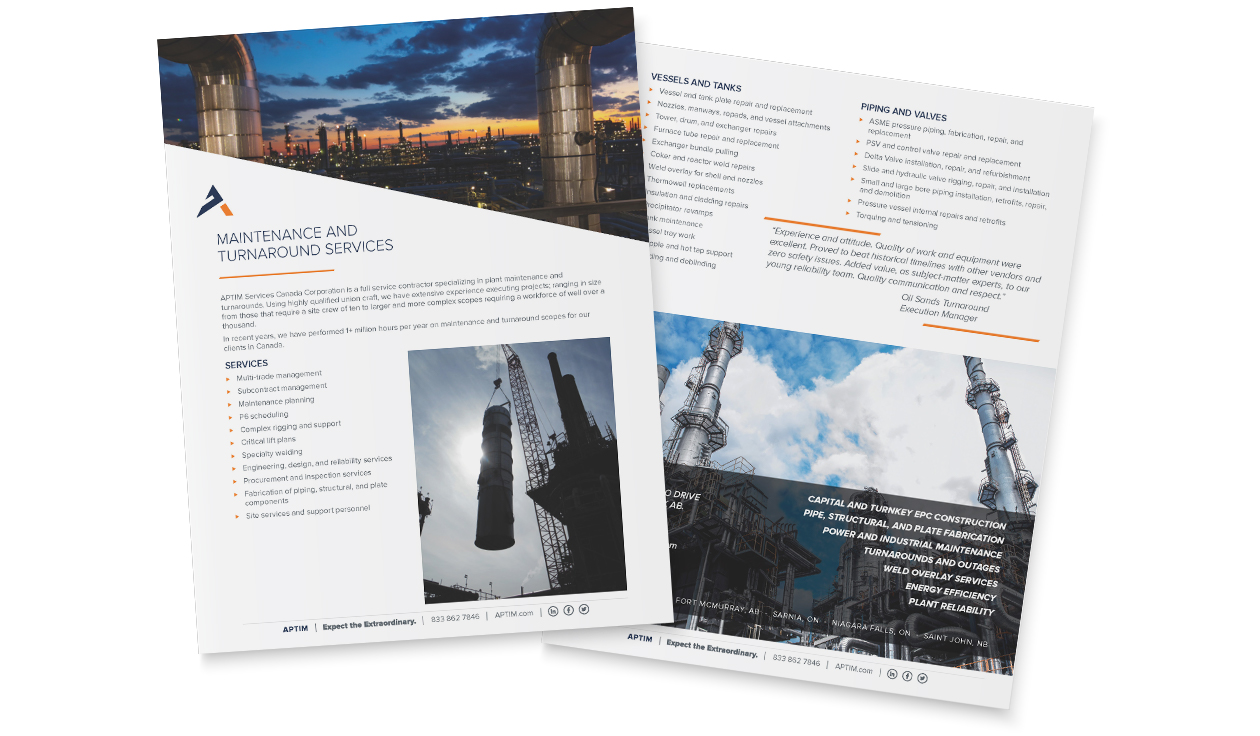 Download Our Brochure
Click here to learn more about our full suite of maintenance and turnaround services.
---
If you would like to learn more or have any questions about the services we provide to the markets in Canada, please contact us.
Whether you have a question about a specific product or service, want to apply for a career, are interested in an investment opportunity or just want information in general, we're here for you.
APTIM. Expect the Extraordinary.